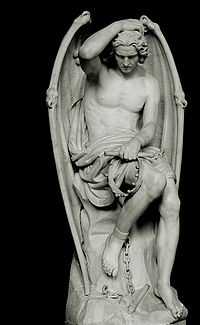 In
Christianity
, the Devil is named
Satan
, sometimes
Lucifer
. He is a fallen
angel
who rebelled against
God
. According to
Islam
he is a genie, since angels had no free will and could not fall. He is often identified as the serpent in the
Garden of Eden
, whose persuasions led to
original sin
and the need for
Jesus
Christ
's redemption. He is also identified as the Accuser of
Job
, the tempter of the
Gospels
, and the dragon in the
Book of Revelation
. The Devil is the author of lies and promoter of
evil
, however he can go no further than the word of God allows, and temptation is likely to come from original sin rather than Satan tempting people.
[1]
Some Christians believe that Satan isn't an entity, but a personification of Sin, since he wasn't written about until the New Testament.
This article is a stub. You can help Christian Knowledgebase Wiki by

expanding it

.
References
Edit
Community content is available under
CC-BY-SA
unless otherwise noted.