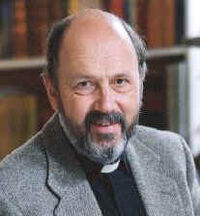 Nicholas Tom Wright (b. 1948) is an Anglican theologian and Bishop of Durham. He was formerly Canon Theologian of Westminster Abbey and dean of Lichfield Cathedral. Wright received his D.Phil. and D.D. degrees from Oxford, and taught New Testament studies for twenty years at Cambridge, McGill and Oxford Universities. He is an expert on the historical Jesus, especially his resurrection. Wright is also well known as an exponent of the New Perspective on Paul, especially on the topic of justification. His Christian Origins and the Question of God book series forcefully counters the "Liberal Myth of Christian Origins" heresy that is popular among some liberal factions.
New Perspective on Paul
Edit
N.T. Wright has been one of the most outspoken advocates of the redefinition of the doctrine of justification, imputed righteousness, and the idea of "exile" within first century Judaism. Anyone wishing to understand the New Perspective on Paul (NPP) should understand and be familiar with his writings as he is the most widely read of any NPP writer.
See main page: Wright's view of the New Perspective on Paul
Selected works
Edit
For an exhaustive collection of Wright's publications, please go here (PDF).
Publications on Wright
Edit
External links
Edit
Reviews of Wright's work
Edit
Other online writings
Edit
Community content is available under
CC-BY-SA
unless otherwise noted.