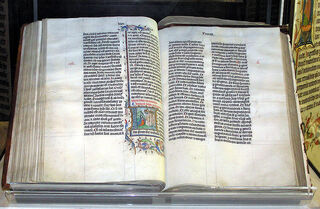 Gospels are a genre of Early Christian literature claiming to recount the life of Jesus, to preserve his teachings, or to reveal aspects of God's nature. The Development of the New Testament canon has left four canonical Gospels which are accepted as the only authentic ones by the great majority of Christians, but many others exist, or used to exist, and are called Apocryphal. Some of these have left considerable traces on Christian traditions, including iconography.
List of Gospels
Edit
Completely preserved Gospels
Edit
Infancy Gospels
Edit
Syriac Gospel of the Boyhood of our Lord Jesus
Partially preserved Gospels
Edit
Fragmentary preserved Gospels
Edit
Reconstructed Gospels
Edit
Lost Gospels
Edit
Gospel of Apelles
Gospel of Bardesanes
Gospel of the Encratites
Gospel of the Gnostics
Gospel of Hesychius
Gospel of Lucius
Gospel of Longinus
Gospel of Manes
Gospel of Merinthus
Gospel of Scythianus
Gospel of Simonides
Gospel of Tatian
Gospel of Thaddaeus
Gospel of Valentinus
The Clementine Gospel
Modern Gospels
Edit
See also
Edit
References
Edit
New Testament Apocrypha, by Wilhelm Schneemelcher, R. M. Wilson.
New Testament Apocrypha: Gospels and Related Writings, by Wilhelm Schneemelcher, R. M. Wilson.
History of the Christian Religion to the Year Two Hundred, by Charles B. Waite.
Community content is available under
CC-BY-SA
unless otherwise noted.