This article may reflect the views of certain denominations, but not others. Revision is necessary to reflect the views of all Christian denominations, as stated in our CPOV policy.
Please see discussion on the
talk page
.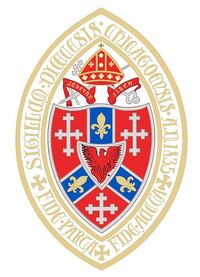 The 'Dicocese of Chicago is part of the Episcopal Church in the United States of America, consisting roughly of the northern third of the state of Illinois. It was founded as the Diocese of Illinois by Bishop Philander Chase. In 1877, the southern portion of Illinois became the Diocese of Springfield, and the west central portion of Illinois became the Diocese of Quincy. The original Diocese of Illinois was then renamed the Diocese of Chicago.
The diocesan bishop is William Persell, and the suffragan bishop is Victor Scantlebury.
In the Anglican Cycle of Prayer prayers are offered for Chicago on May 25.
Bishops of Chicago
Philander Chase

1835–1852


Henry Whitehouse

1852-1874


William McLaren

1875-1905


Charles Palmerston Anderson

1905-1930


Sheldon Griswold

Feb. 1930-Nov. 1930


George Stewart

1930-1940


Wallace Conkling

1941-1953


Gerald Burrill

1954-1971


James Montgomery

1971-1987

Frank Griswold 1987-1998


Willliam Persell

1999-2008


Jeff Lee

2008-present
External Links
Website of the Diocese of Chicago.