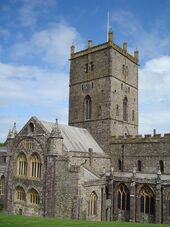 Wales is one of the nations in the United Kingdom. The largest religion in Wales is Christianity, with 72% of the population describing themselves as Christian in the 2001 census. The Presbyterian Church of Wales is the largest denomination and was born out of the Welsh Methodist revival in the 18th century and seceded from the Church of England in 1811. The Church in Wales is the next largest denomination, and forms part of the Anglican Communion. It too was part of the Church of England, and was disestablished by the British Government under the Welsh Church Act 1914 (the act did not take effect until 1920). The Roman Catholic Church makes up the next largest denomination at 3% of the population. The Salvation Army started work in Wales in 1874. Non-Christian religions are small in Wales, making up approximately 1.5% of the population. 18% of people declare no religion. The Apostolic Church holds its annual Apostolic Conference in Swansea each year, usually in August.
The patron saint of Wales is Saint David (Welsh: Dewi Sant), with St David's Day (Welsh: Dydd Gŵyl Dewi Sant) celebrated annually on 1 March.
In 1904, there was a religious revival (known by some as the 1904-1905 Welsh Revival or simply The 1904 Revival) which started through the evangelism of Evan Roberts and took many parts of Wales by storm with massive numbers of people voluntarily converting to Nonconformist and Anglican Christianity, sometimes whole communities. Many of the present-day Pentecostal churches in Wales claim to have originated in this revival.
Islam is the largest non-Christian religion in Wales, with over 30,000 reported Muslims in the 2001 census. There are also communities of Hindus and Sikhs mainly in the South Wales cities of Newport, Cardiff and Swansea, while curiously the largest concentration of Buddhists is in the western rural county of Ceredigion. Judaism was the first non-Christian faith (excluding pre-Roman animism) to be established in Wales, however as of the year 2001 the community has declined to approximately 2,000. Paganism and Wicca are also growing in Wales. Many Pagans and Wiccans also visit Wales because of the Ancient Celtic history the country has.
External link
Edit
BBC - Wales - History of religion : Multicultural Wales
Community content is available under
CC-BY-SA
unless otherwise noted.