We're Getting Mutants in the MCU - The Loop
Play Sound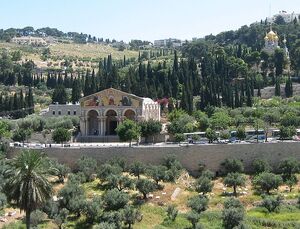 Christians are presently the smallest religious group and denomination of the Abrahamic religions in Israel. Most Christians living permanently in Israel are Arabs or have come from other countries to live and work mainly in churches or monasteries, which have long histories in the land.
According to both historical and traditional sources, Jesus lived in the Land of Israel, and died and was buried on the site of the Church of the Holy Sepulchre in Jerusalem, making it a Holy Land to Christians. However, very few Christians now live in the area, compared to Muslims and Jews. This is because Islam displaced Christianity in almost all of the Middle East, and the rise of modern Zionism and the establishment of the State of Israel has seen millions of Jews migrate to Israel.
Eastern Orthodox and Catholic Churches
Nevertheless, Christianity in Israel reveals the vestiges of the land's past and present interaction with Christian powers. Most Christians in Israel belong primarily to branches of the Eastern Orthodox Churches that oversee a variety of churches, monasteries, seminaries, and religious institutions all over the land, particularly in Jerusalem. In the nineteenth century the Russian Empire constituted itself the guardian of the interests of Christians living in the Holy Land, and even today large amounts of Jerusalem real estate (including the site of the Knesset building) are owned by the Greek Orthodox Patriarchate of Jerusalem.
Protestants
In modern times, one of the most vocal and active sectors of Christianity in support of Israel has come from the Protestant churches that support Evangelicalism. Each year hundreds of thousands of Christian Evangelicals come as tourists on private and organized trips to see Israel for themselves, to be inspired by the land of the Bible, and in the process benefiting the local economy as well.
Nine churches are officially recognised under Israel's confessional system, for the self-regulation of status issues, such as marriage and divorce. These are the Eastern Orthodox, Roman Catholic (Latin rite), Gregorian-Armenian, Armenian Catholic, Syriac Catholic, Chaldean (Uniate), Melkite (Greek Catholic), Ethiopian Orthodox, Maronite and Syriac Orthodox churches. There are more informal arrangements with other churches such as the Anglican Church and the Church of Jesus Christ of Latter-day Saints.
In recent years, the Christian population in Israel has increased significantly by the immigration of foreign workers from a number of countries, and the immigration of accompanying non-Jewish spouses in mixed marriages. Numerous churches have opened in Tel Aviv, in particular.
See also