James bar-Zebedee, also known as James the Greater, was one of Jesus' twelve apostles. He was the brother of John and the son of Zebedee. With John, he was also known as one of the "sons of Thunder." Catholic tradition states that his mother was Salome.
Several events were witnessed only by Simon Peter and the two sons of Zebedee, including the Transfiguration (Matthew 17), the raising of Jairus's daughter (Mark 5), and the agony in the Garden of Gethsemane (Matthew 26). James the Greater was beheaded by Herod Agrippa during Passover in 44 AD.
He is known as James the greater to distinguish him from another apostle, James the Less, the son of Alphaeus.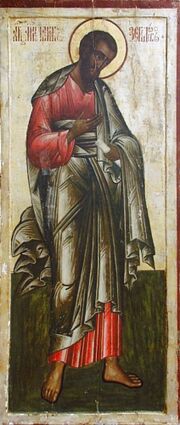 Introduction
Edit
The Apostle James was one of the Twelve Apostles of the Lord Jesus Christ. He was the son of Zebedee and the older brother of the Apostle John, author of the Bible book of Revelation. It is believed that their mother was Salome, also a faithful follower of Jesus Christ.
Zebedee and his sons lived in the tiny fishing village of Capernaum [located North of sea of Galilee]; and it was here that they made their living by fishing. According to the gospel of Mark, Capernaum is the place where Jesus first began calling men to follow Him. We are told that the Apostle James was called to follow the Lord soon after He had called the Apostle Simon Peter and his brother Andrew--also fishermen in this area.
The passage in Mark which discusses Christ's initial calling of His disciples is found at Mark 1:14-20 where it reads, "14 After John was put in prison, Jesus went into Galilee, proclaiming the good news of God. 15 "The time has come," he said. "The kingdom of God is near. Repent and believe the good news!" 16 As Jesus walked beside the Sea of Galilee, he saw Simon and his brother Andrew casting a net into the lake, for they were fishermen. 17 "Come, follow me," Jesus said, "and I will make you fishers of men." 18 At once they left their nets and followed him. 19 When he had gone a little farther, he saw James son of Zebedee and his brother John in a boat, preparing their nets. 20 Without delay he called them, and they left their father Zebedee in the boat with the hired men and followed him. [3]
As one of the apostles inside Christ's inner circle [The two others were his brother the Apostle John and the Apostle Peter.], James was invited to witness His Transfiguration on the mountain. The Bible passage which illustrates this remarkable and glorious event can be found at Matthew 17:1-13.
The passage reads, "1 After six days Jesus took with him Peter, James and John the brother of James, and led them up a high mountain by themselves. 2 There he was transfigured before them. His face shone like the sun, and his clothes became as white as the light. 3 Just then there appeared before them Moses and Elijah, talking with Jesus. 4 Peter said to Jesus, "Lord, it is good for us to be here. If you wish, I will put up three shelters—one for you, one for Moses and one for Elijah." 5 While he was still speaking, a bright cloud enveloped them, and a voice from the cloud said, "This is my Son, whom I love; with him I am well pleased. Listen to him!" 6 When the disciples heard this, they fell facedown to the ground, terrified. 7 But Jesus came and touched them. "Get up," he said. "Don't be afraid." 8 When they looked up, they saw no one except Jesus. 9 As they were coming down the mountain, Jesus instructed them, "Don't tell anyone what you have seen, until the Son of Man has been raised from the dead." 10 The disciples asked him, "Why then do the teachers of the law say that Elijah must come first?" 11 Jesus replied, "To be sure, Elijah comes and will restore all things. 12 But I tell you, Elijah has already come, and they did not recognize him, but have done to him everything they wished. In the same way the Son of Man is going to suffer at their hands." 13 Then the disciples understood that he was talking to them about John the Baptist."
James was later asked to be near to the Lord during His Agony in the Garden [of Gethsamane.] This account is discussed at Mark 14:32-4. Here it reads, "32 They went to a place called Gethsemane, and Jesus said to his disciples, "Sit here while I pray." 33 He took Peter, James and John along with him, and he began to be deeply distressed and troubled. 34 "My soul is overwhelmed with sorrow to the point of death," he said to them. "Stay here and keep watch." 35 Going a little farther, he fell to the ground and prayed that if possible the hour might pass from him. 36 "Abba,[e] Father," he said, "everything is possible for you. Take this cup from me. Yet not what I will, but what you will." 37 Then he returned to his disciples and found them sleeping. "Simon," he said to Peter, "are you asleep? Could you not keep watch for one hour? 38 Watch and pray so that you will not fall into temptation. The spirit is willing, but the body is weak." 39 Once more he went away and prayed the same thing. 40 When he came back, he again found them sleeping, because their eyes were heavy. They did not know what to say to him. 41 Returning the third time, he said to them, "Are you still sleeping and resting? Enough! The hour has come. Look, the Son of Man is betrayed into the hands of sinners. 42 Rise! Let us go! Here comes my betrayer [4].
These were only a few of the times that James was alongside Jesus during His public ministry. Although his name isn't mentioned very often, we can be assured that, the apostle James, like the other two apostles close to Christ, witnessed many marvelous wonders.
James became a victim of Herod Agrippa's cruelty in 44 AD when the King, intent on maintaining his popularity among the Jews, had him killed by the sword. This was during the time when the church had begun to grow in numbers and the Jews of Judea and nearby regions had become very antagonistic towards Christ's followers.
The Apostle James is honored each year during his feast day on July 25th on the liturgical calendars [5] of the Roman Catholic, Anglican, Lutheran and certain Protestant churches. He is commemorated on April 29th in the Orthodox Christian liturgical calendar. [6]
Life Before Christ
Edit
Headline text
Edit
Former Occupation
Edit
To understand the pre-apostolic occupation of the Apostle Saint James, one should be informed of his father's trade first; for it was in the footsteps of his father, Zebedee, that James the Greater followed. One source sums up the Zebedee family business very adequately. It says, "Zebedee [his father] was a fisherman of the Lake of Galilee, who probably lived in or near Bethsaida [7] (John 1:44), perhaps in Capernaum; and had some boatmen or hired men as his usual attendants." [8]
Scripture informs us that both James and his brother John were preparing their [fishing] nets when the Lord came to call them; and they left their father Zebedee to follow Jesus [Mark 1:19-20].
Capernaum's Geography and Politics
Edit
It seems only fitting to discuss the geography and political situation of James' hometown of Capernaum since both of these impacted heavily on the Apostles' calling by Jesus and on their subsequent preaching work.
Capernaum was a small town located on the Northwestern shore of the Sea of Galilee. Sources tell us that it is situated on the highway which ran from the Mediterranean coast to Damascus [Syria]. We are also told that Capernaum once had a small port for the many fishermen who lived there.
All that came about by means of our Lord was in fulfillment of prophecy, from the moment of His divine conception (See Virgin Mary) up to the time of His death, Resurrection and Ascension. So it is hardly surprising that His journey was also in fulfillment of prophesy.
Capernaum lies at the borders of two cities that were prophesied by Isaiah,the cities of Zebulun and Naphtali. These cities are named after two of the sons of the patriarch Jacob [Zebulun and Napthali]. They had become so Hellenized [Greek], that the people had utterly forgotten and even forsaken their own religion and their God. Some most likely had begun worshipping pagan deities. Isaiah thus called Capernaum the "Galilee of the Gentiles".
The verse from Isaiah 9:1-2 reveals this prophecy. It reads, "1 Nevertheless, there will be no more gloom for those who were in distress. In the past he humbled the land of Zebulun and the land of Naphtali, but in the future he will honor Galilee of the Gentiles, by the way of the sea, along the Jordan River
2 The people walking in darkness 	
      have seen a great light; 
      on those living in the land of the shadow of death  a light has dawned. [9]


Remarkable, Capernaum is the city from where Jesus called His first disciples, Andrew, Peter, and the two Sons of Zebedee (Matthew 4:13-22). This is also where our Lord taught in the Jewish synagogue of the city (John 6:24-59), and where Saint Peter was asked to take the coin from the mouth of the fish (Matthew 17:24-27) in order to pay the tax collectors. Christ stayed at Saint Peter's house in Capernaum where He would teach and heal the sick. Sadly, however, Jesus also rebuked the city for its unbelief--even after having witnessed His mighty works Luke 10:15). [10]
Roman politics played a large role in the lives of the inhabitants in Capernaum and the rest of the country. Because of heavy and unfair taxes that Rome imposed upon its subjects, most of the people at that time were either impoverished or living at marginal economic levels. Because of the unfair tax burden and other offensive practices, sporadic outbursts of violence and rioting were not uncommon.
As the preaching work of the apostles continued to spread more rapidly throughout Galilee, Judea, Samaria and the outlying regions, Jewish hostilities toward Christ's disciples grew more with even greater intensity. Such hostility led to persecution, arrests and even deaths--especially of those in leadership positions. James the Greater became a victim of such hostility during the reign of Herod Agrippa I, where he was beheaded for his speaking boldly about the Kingdom of God. Stephen, the protomartyr, was stoned to death only a few years earlier, by a Jewish mob, also for preaching about God's Kingdom.
His Apostleship
Edit
When John, brother of James, first heard John the Baptist identify Jesus as "the Lamb of God," he immediately ran to his brother James exclaiming joyously, "We have found the Messiah". It would be only a short time later when Jesus [Messiah] Himself would come calling them to stop what they were doing and follow Him. He would later make them, through His special annointing, His Apostles, giving them authority to teach, heal the sick and lame, and drive out demons.
One account of this event is found in Luke 5:1-11. It reads, "1 One day as Jesus was standing by the Lake of Gennesaret, with the people crowding around him and listening to the word of God, 2 he saw at the water's edge two boats, left there by the fishermen, who were washing their nets. 3 He got into one of the boats, the one belonging to Simon, and asked him to put out a little from shore. Then he sat down and taught the people from the boat.
4When he had finished speaking, he said to Simon, "Put out into deep water, and let down the nets for a catch."
5 Simon answered, "Master, we've worked hard all night and haven't caught anything. But because you say so, I will let down the nets."
6 When they had done so, they caught such a large number of fish that their nets began to break. 7 So they signaled their partners in the other boat to come and help them, and they came and filled both boats so full that they began to sink.
8 When Simon Peter saw this, he fell at Jesus' knees and said, "Go away from me, Lord; I am a sinful man!" 9 For he and all his companions were astonished at the catch of fish they had taken10and so were James and John, the sons of Zebedee, Simon's partners. Then Jesus said to Simon, "Don't be afraid; from now on you will catch men." 11 So they pulled their boats up on shore, left everything and followed him.
A complete list of Jesus' Twelve Apostles is shown below, and is taken from Luke 6:12-16.
"12 One of those days Jesus went out to a mountainside to pray, and spent the night praying to God. 13 When morning came, he called his disciples to him and chose twelve of them, whom he also designated apostles: 14 Simon (whom he named Peter), his brother Andrew, James, John, Philip, Bartholomew, 15 Matthew, Thomas, James son of Alphaeus, Simon who was called the Zealot, 16 Judas son of James, and Judas Iscariot, who became a traitor.
A Never-Ending Presence during Christ's Ministry
Below are two of the many times when the Apostle James was present with Jesus Christ during His public ministry.
Sermon on the Mount
At one time during Jesus' public ministry,large crowds of people came from all over to hear Him speak, heal them of their infirmities and deliver them from evil spirits. The Lord chose this time to deliver to them a spiritually uplifting message on the manifold blessings which God, in His infinite mercy, will bestow upon each one of them simply by virtue of who they were. This timeless sermon is surely one of the greatest in the New Testament. It offers such great hope for those who are poor and/or suffering in this life. It also warns us of the danger of riches without acknowledgement of God. One can only imagine the joy and happiness the people must have felt upon hearing of God's Kingdom and the blessings which they are sure to receive.
The scripture on this event reads, "17 He went down with them and stood on a level place. A large crowd of his disciples was there and a great number of people from all over Judea, from Jerusalem, and from the coast of Tyre and Sidon, 18 who had come to hear him and to be healed of their diseases. Those troubled by evil spirits were cured, 19 and the people all tried to touch him, because power was coming from him and healing them all.
20 Looking at his disciples, he said:
"Blessed are you who are poor,
for yours is the kingdom of God.

21 Blessed are you who hunger now,
for you will be satisfied.
Blessed are you who weep now,
for you will laugh.

22 Blessed are you when men hate you,
when they exclude you and insult you
and reject your name as evil, because of the Son of Man.

23 "Rejoice in that day and leap for joy, because great is your reward in heaven. For that is how their fathers treated the prophets.

24 "But woe to you who are rich,
for you have already received your comfort.

25 Woe to you who are well fed now,
for you will go hungry.
Woe to you who laugh now,
for you will mourn and weep.

26 Woe to you when all men speak well of you,
for that is how their fathers treated the false prophets.

Apostles' Indignation at Samaritan Opposition to Christ
The Apostle James was with Jesus at the time when He [along with the eleven others] was passing through a Samaritan village. The people of this village did not welcome the Lord, and this offended His Apostles greatly. The event is found in Luke 9:51-56.
The verse reads, "51 As the time approached for him to be taken up to heaven, Jesus resolutely set out for Jerusalem. 52 And he sent messengers on ahead, who went into a Samaritan village to get things ready for him; 53 but the people there did not welcome him, because he was heading for Jerusalem. 54 When the disciples James and John saw this, they asked, "Lord, do you want us to call fire down from heaven to destroy them?" 55 But Jesus turned and rebuked them, 56 and they went to another village.
Martyrdom
Edit
As Christianity began to spread rapidly throughout the country, by the divine workings of the Holy Spirit upon Christ's disciples, a strong anti-Christian sentiment began to spread as well and was now rampant among the Jews who found the new religion a threat to Jewish religious tradition. This sentiment was shared by the newly appointed King of the region, Herod Agrippa I, who, in his aim to retain his popularity among the Jews by stamping out the gospel teaching in any way possible, began targeting Christ's followers soon after taking office.
It should be noted that Agrippa I was a grandson of Herod the Great and Mariamne. He was the son of Aristobulus and the brother of Herodias. At one time, Agrippa was deeply in debt and had become a prisoner in Rome under the Emperor Tiberius. When Caius came to the throne in 37AD, he made him king over the territories formerly ruled by Philip and Lysanias. (Jos., "Ant.", XVIII, vi, vii). In 41AD, Judea and Samaria were given to Agrippa by the Emperor Claudius, whom Agrippa had helped secure the throne. [11]
Just prior to Agrippa's campaign, a severe famine had begun spreading over the entire Roman Empire. The biblical account states [Acts 11:27 – 30], "27During this time [of rapid growth in the church's numbers] some prophets came down from Jerusalem to Antioch. 28One of them, named Agabus, stood up and through the Spirit predicted that a severe famine would spread over the entire Roman world. (This happened during the reign of Claudius.) 29The disciples, each according to his ability, decided to provide help for the brothers living in Judea. 30This they did, sending their gift to the elders by Barnabas and Saul."
In Acts we learn that the Apostle James was also killed during this time by Agrippa I. The account says, " 1It was about this time that King Herod arrested some who belonged to the church, intending to persecute them. 2He had James, the brother of John, put to death with the sword. 3When he saw that this pleased the Jews, he proceeded to seize Peter also. This happened during the Feast of Unleavened Bread" [Acts 12:1-3]. [1][12]
As mentioned earlier, James' martyrdom came in 44AD when he was beheaded by Agrippa for speaking the gospel of Christ. We are also told that James' accuser [Acts 12:1-2] was so moved by his confession that he became a Christian himself, and they were beheaded together. [Acts 12:1-2] [for further information on James life, see the Latin work, "Passio Jacobi Majoris" and the Ethiopic "Acts of James".]
Feast Day of the Apostle James
Edit
The holy, glorious, all-laudable Apostle James was a son of Zebedee and the brother of the Apostle John and a fisherman. The Church remembers the Apostle Saint James on April 30, and on June 30 among the Twelve.
Hymns Sung on His Feast Day
Troparion (Tone 8) [1]
As a soldier of the Lord you were ranked among the choir of apostles. Together with your brother, O James, you clung wholeheartedly to the Savior. sword. Therefore we sing your praises!
Troparion (Tone 3)
You were a chosen apostle of Christ And the only brother of the beloved Theologian. Most praised James, ask remission of sins and great mercy For those who sing hymns to you.
Kontakion (Tone 2)
You heard the voice of God calling you And turned away from the love of your father. With your brother you hastened after Christ, O glorious James. With him, you were counted worthy to behold the Lord's divine Transfiguration! [13]
The Apostle James in Spain
Edit
Concerning the Apostle's missionary work in Spain, one source writes, "Following Pentecost, Saint James went to preach the gospel in Spain. Upon his return to Jerusalem the Jews would argue with him vehemently concerning the Holy Scriptures. None could withstand his wisdom, however.Seeing this the Jews slandered him before Herod and among some false witnesses such as a certain Josias. But in hearing Saint James' testimony, Josias believed and was condemned to death with James. Before the axe fell, Saint James embraced and kissed this repentant false witness and said, 'Peace and forgiveness to you!' It is believed that Saint. James' body was translated to Spain where his relics continue to work miracles even to this day." [14]
Santiago de Compostela Cathedral
Santiago de Compostela Cathedral (Galician: Catedral de Santiago de Compostela) is a Roman Catholic church in Santiago de Compostela in Galicia, Spain. The cathedral is the reputed burial-place of Saint James the Greater, one of the apostles of Jesus Christ. It is the destination of the Way of St. James (popularly known by its local denominations: Galician: Camiño de Santiago, Portuguese: Caminho de Santiago, Spanish: Camino de Santiago, French: Chemin de St. Jacques, German: Jakobsweg), a major historical pilgrimage route since the Middle Ages.
It is believed by many [though some say it is a legend] that the Apostle Saint James the Greater brought Christianity to the Celts in the Iberian Peninsula. [2] [3]
His remains were later brought back to Galicia, Spain after his martyrdom in Jerusalem in 44AD. Following Roman persecutions of Spanish Christians, his tomb was abandoned in the 3rd century. Still according to legend, this tomb was rediscovered in 814 AD by the hermit Pelayo, after witnessing strange lights in the night sky. Bishop Theodemir of Iria recognized this as a miracle and informed king Alfonso II of Asturias and Galicia (791-842). The king ordered the construction of a chapel on the site. Legend has it that the king became the first pilgrim to this shrine. This was followed by a first church in 829 AD and again in 899 AD by a pre-Romanesque church, at the order of king Alfonso III of León, causing the gradual development of a major place of pilgrimage. Nevertheless, the Church became an Episcopal See in 1075; and due to its growing importance as a place of pilgrimage, it was soon raised to an Archiepiscopal See by Pope Urban II in 1100. A university was added in 1495. [15]
James and Kongo
Edit
According to a reliable source, "Saint James [has] held a special place in the Central African Kingdom of Kongo because of his association with the founding of Christianity in the country in the late fifteenth century." They write that "Portuguese sailors and diplomats brought the Saint to Kongo when they first reached the country in 1483. When King Afonso I of Kongo whose Kongo name was Mvemba a Nzinga, the second Christian king, was facing a rival, his brother Mpanzu a Kitima, in battle, he reported that a vision of Saint James and the Heavenly Host appeared in the sky, frightened Mpanzu a Kitima's soldiers, and gave Afonso the victory. As a result, he declared that Saint James' feast day (25 July) be celebrated as a national holiday." This source goes on to say: "Saint James day became the central holiday of Kongo. Taxes were collected on that day and men eligible for military duty were required to appear armed. There were usually regional celebrations as well as one at the capital. In some cases, Kongolese slaves carried the celebration to the New World, and there are still celebrations of Saint James Day in Haiti and Puerto Rico." [16]
↑ Acts 12:4-10 "4After arresting him [the Apostle Peter], he put him in prison, handing him over to be guarded by four squads of four soldiers each. Herod intended to bring him out for public trial after the Passover. So Peter was kept in prison, but the church was earnestly praying to God for him. 6The night before Herod was to bring him to trial, Peter was sleeping between two soldiers, bound with two chains, and sentries stood guard at the entrance. 7Suddenly an angel of the Lord appeared and a light shone in the cell. He struck Peter on the side and woke him up. "Quick, get up!" he said, and the chains fell off Peter's wrists. 8Then the angel said to him, "Put on your clothes and sandals." And Peter did so. "Wrap your cloak around you and follow me," the angel told him. 9Peter followed him out of the prison, but he had no idea that what the angel was doing was really happening; he thought he was seeing a vision. 10They passed the first and second guards and came to the iron gate leading to the city. It opened for them by itself, and they went through it. When they had walked the length of one street, suddenly the angel left him. [1]
↑

According to a certain tradition, Saint James the Greater, having preached Christianity in Spain, returned to Judea and was put to death by order of Herod. It is noted that his body was miraculously translated to Iria Flavia in the northwest of Spain, and later to Compostela, which town, especially during the Middle Ages, became one of the most famous places of pilgrimage in the world. The vow of making a pilgrimage to Compostela to honor the sepulchre of Saint. James is still reserved to the pope, who alone of his own or ordinary right can dispense from it. In the twelfth century was founded the Order of Knights of St. James of Compostela.

↑ The authenticity of the sacred relic of Compostela has been questioned and is still doubted. Even if St. James the Greater did not preach the Christian religion in Spain, his body may have been brought to Compostela, and this was already the opinion of Notker. According to another tradition, the relics of the Apostle are kept in the church of Saint-Saturnin at Toulouse (France), but it is not improbable that such sacred relics should have been divided between two churches. A strong argument in favor of the authenticity of the sacred relics of Compostela is the Bull of Leo XIII, "Omnipotens Deus," of 1 November, 1884. [2]
Community content is available under
CC-BY-SA
unless otherwise noted.